Field Reservations are available @ $30 per 90 minute time slots starting at 8:30 am through 7:00 pm.  Booking is only available one week at a time. 
Step 1:  
**our Field schedule calendar is temporary down due to server problems with team snap.  Please call one of the contacts listed below to find what fields are available prior to continuing to step 2**
Please view our Field Schedule Calendar prior to purchasing in order to identify what field/time is available.
Step 2:
Once you have identified what Field / Time slot visit our BYYA store to purchase your reservation.  Please fill out the required information and make your purchase.  One of our coordinators will be notified and will add your time slot to the calendar.
---
If you have any questions please contact the following:
-
Wade Pitre
832.985.5072
---
Available Fields
Field 1:  Pony field (has a temporary mound)
Field 2:  Mustang Field (has a temporary mound)
Field 3:  Softball
Field 4: Softball
Field 5: Girls Pinto
Field 6:  Boys Pinto
Field 7:  Tee-ball
Field 8: Tee-ball
Field 9: Boys Pinto
Field 10: Bronco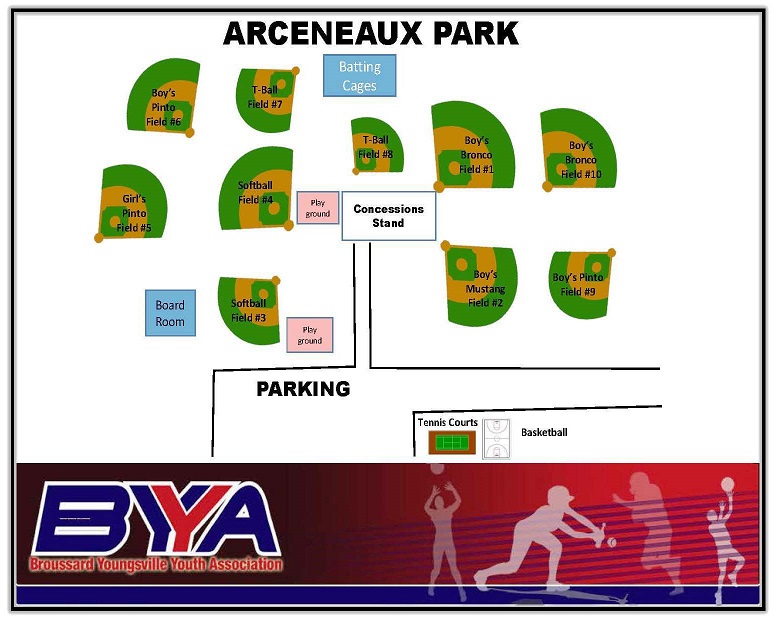 ---